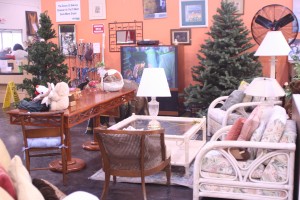 Thrift-Mart offers an extensive array of new and gently used clothing, as well as furniture, household goods, appliances, electronics, toys, tools and more. New items are continually being donated and added to the large selection currently available. Please check back regularly to see the newest merchandise in stock.
Clothing: Choose from a wide selection of new and used apparel for men, women and children of all ages and sizes, including plus sizes. You'll also find an extensive array of shoes for men, women and children.
Appliances/Electronics: Available items vary based on currently stocked items but may include full size and mini refrigerators, washers/dryers, microwave ovens, televisions and more.
Furniture: Enjoy an extensive selection of outdoor patio furniture as well as sofas, chairs, kitchen table sets, cabinets, desks, mattresses, dressers, television stands and other miscellaneous furniture.
Toys/Books/Videos: Browse through a large and varied selection of books, videos and record albums as well as miscellaneous toys, stuffed animals, games and bicycles.
Jewelry: Visit the jewelry counter to see the broad range of jewelry items ranging from rings and bracelets to necklaces and chains.
Household Miscellaneous: Choose from household decorations, paintings and artwork as well as luggage, purses and other miscellaneous items.